Explore Diamond Beach Nusa Penida with Bali Private Tour is one of the most visited places in Bali. Its beauty attracts so many tourists from all over the world. One of the tourist favorites spots is Diamond Beach, Nusa Penida.
Diamond Beach Nusa Penida is well known for its stunning silky blue water, limestone's, palm trees, and beautiful white sands.
When you visit this beautiful beach, you can walk all the way up to the small building. From there, you can find a viewpoint to enjoy the beach from a high angle. But, you can also walk down the stairs and enjoy the white sands and waves.
What to Expect when visiting Diamond Beach Nusa Penida
When visiting Diamond Beach, there are some things you can expect. Well, Diamond Beach Nusa Penida has two parts. One has kinda vivid green mossy rocks with tidal rock pools. The second part of it has coconut palm trees, glistening white sand, and small caves.
Other than that, there is also some underlying reef and rock that make it still possible to swim. Though it's not the best beach for swimming. There are also a few turtles you can see if lucky enough.
Where Exactly is Diamond Beach Nusa Penida?
The Diamond Beach Nusa Penida location is near two other attractions in this area. Those places are Atuh Beach that is to the left of Diamond Beach and Thousand Island Viewpoint on the right side. The pro tip is to not put Atuh Beach in your Google Maps when you try to visit the place.
If you park at the Atuh Beach, then you will have to do a long drive all the way around to visit the two other places. Whereas if you park at Diamond Beach parking lot, you can access both beaches from there. Thousand Island Viewpoint is just a two-minute drive away from the Diamond Beach parking lot.
If you still have no idea on how and when to get there, it is highly recommended to get a Bali private tour.
Benefit of getting a Bali Private Tour to Enjoy Diamond Beach Nusa Penida
There are lots of tourists whether it's local or international who prefer to get a private tour to explore Nusa Penida. The reason is sometimes as simple as waiting for other people on a group tour during your holiday can be a bit uncomfortable.
That's why, it's highly recommended to explore this stunning Diamond Beach Nusa Penida with a Bali private tour guide. Getting a Bali private tour guide will give you more freedom on the timing and places. You can decide the duration on how long you want to stay and wherever you want to go.
The private tour guide will also bring you to find Instagrammable spots at this beach. Not only that, the Bali tour guide will gladly help you take beautiful photos. They are friendly yet still professional to take you anywhere around Nusa Penida.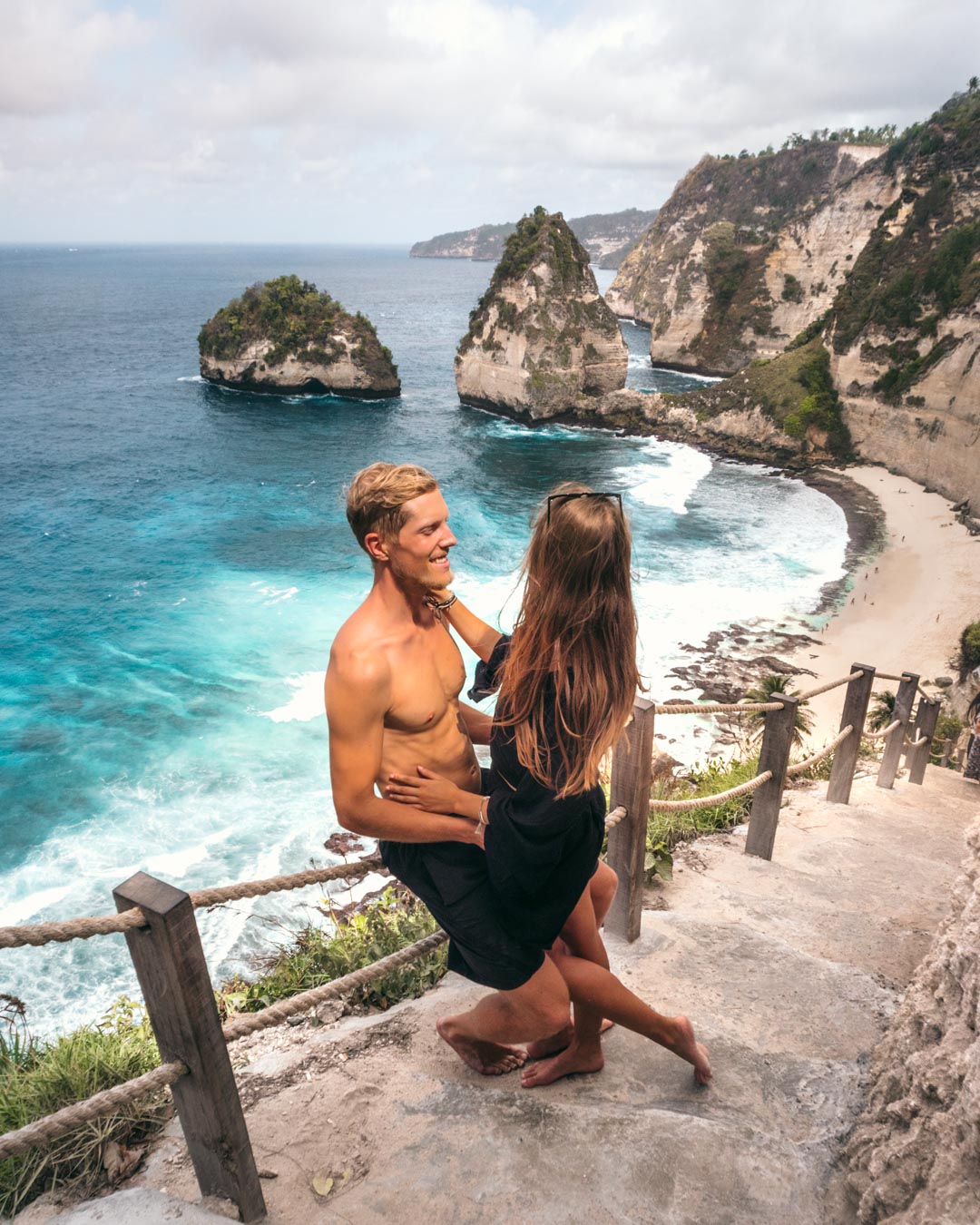 How to Choose the Best Bali Private Tour
Choosing the best Bali private tour guide & driver is not that difficult. Most tourists prefer to get a Bali private tour package knowing it is easier and cheaper. There are a few things to consider when choosing a Bali private tour guide.
1. The Freedom you get to visit places
It is very important to choose a tour guide who gives you so much freedom to explore. Because, that is the reason you prefer getting a private tour guide isn't it?
2. The Guide
Getting a guide that speaks fluently in English will help you communicate easier for sure. You don't want to spend your wonderful time with a boring private tour guide, right?
3. The Accommodation
It is advised to focus on exploring rather than shopping during travelling. But even so, you can get a complete package including meals, souvenirs, snacks, and other things too with the Bali private tour package.
4. The Price
Indeed, the Bali private tour package is a bit pricier than the group ones. But there are lots of Bali private tour guides who give decent prices with good service like Bali Puja Tour.
With Bali Puja Tour YOUR PRIVATE DRIVER IN BALI, you can get a Bali private tour driver that will bring you anywhere you want to go. You will get an unforgettable experience exploring Nusa Penida with a fun and friendly private driver.
So, what are you waiting for guys? BOOK NOW and get special price from us for group BOOKING!
BOOK YOUR JOURNEY NOW!
WhatsApp: +6289526291915
Email: dejobali@gmail.com
Website:  https://www.balipujatour.com/